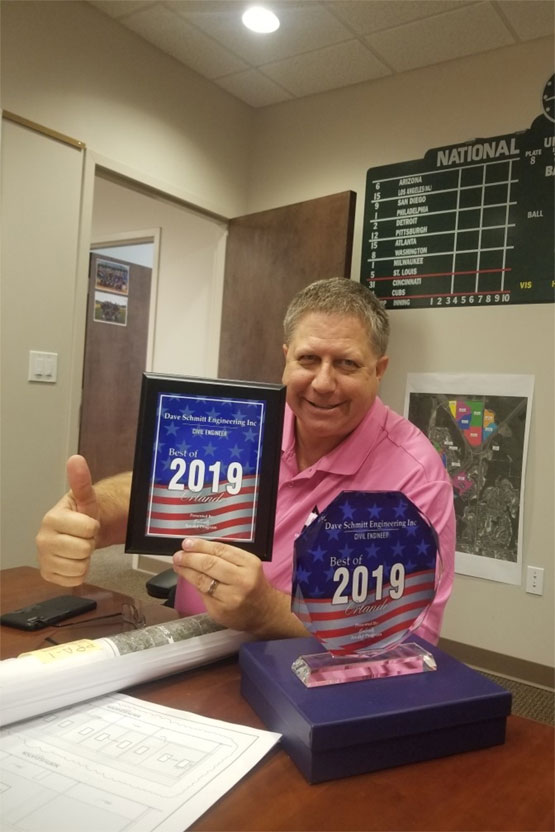 Why is DSE the best choice?
"Dave Schmitt Engineering sets itself apart from other firms with our level of customer service. We believe that the customer always come first. We understand that the best compliment is repeat business."
Quality. Promptness. Service.
DSE was created with the idea to provide its clients with top quality work in a prompt manner while always keeping excellent customer service at the forefront of priorities throughout all phases of production.
Knowledgeable & Experienced
Dave Schmitt brings over thirty years of experience in civil engineering to the table. This experience has given us the knowledge of the expectations of the various local municipalities. Additionally, our experience in the land development industry brings an invaluable understanding of the importance of timeliness and responsiveness to our clients.
"DSE has been involved with over 25 unique projects for Citi communities and Encore Resorts and has exhibited top-level professionalism and competency across a broad spectrum of asset classes. Dave Schmitt, Principal, engages personally with each project thus ensuring accuracy and value engineering improvements are captured. We intend to maintain our relationship with DSE."
James Bagley
Bagley & Langan, PLLC
"Thank you for your continuing efforts in regards to our project. You and your staff have always been professional and expedient. We value you as an important member of the Morgran team."
Daniel Thall
VP Morgran Management
DSE has done a great job for us on the design and entitlements of 45 acres in Ocoee. They have always been very responsive to our needs and questions and have been easy to deal with throughout the entire process. We would highly recommend them in the future. "
J, Wilson McDowell
Managing Director Cite Partners
"Feltrim has worked with Dave Schmitt Engineering for about 10 years now and we found him and his company to be great team players in approaching any projects him and his staff have worked with Feltrim on."
Garrett Kenny
CEO Feltrim Group